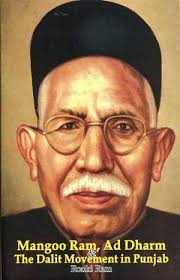 This podcast interviews me about my research on lower caste movements in the Punjab, including my interviews with the founder of the Ad Dharm movement, Mangoo Ram. It tells how I got involved in this research, and how I found Mangoo Ram almost by accident, and discovered to my surprise that this village leader of Untouchables had once lived in Fresno! For the full story, listen to the podcast at this site:
https://www.patreon.com/posts/39559133
Here's the introduction to the podcast:
Ad Dharm & Ravidassia with Professor Mark Juergensmeyer
 Welcome to the tenth history podcast by SikhArchive, today we are joined by Mark Juergensmeyer, who is a professor of global studies, sociology and also religious studies at the University of California, Santa Barbara.
He has a plethora of literature relating to the study of South Asian religion and politics and has published more than 200 articles and 20 books, one of which being discussed today is called, Religious Rebels in the Punjab, which is about the Ad Dharam movement in the early 20th century which subsequently led to the formation of the Ravidassia community.
His scholarly work related to the Ad Dharam movement and Ravidassia religious formation is phenomenal and certainly unique since his field work includes being in contact with many of the key members including Mangu Ram. Thus, I could think of no better person to have a conversation with about the religious reform movement with respect to the scheduled castes which ran parallel to the Singh Sabha Lehar and Arya Samaj.
And it is important note here that the terms "Dalit", "untouchables", "Scheduled castes" or "scheduled tribes" – throughout this discussion are all terms of reference and none of which the diaspora relate to in caste discussions.
"Dalit" is the Preferred and politically correct term used in the subcontinent and academic writing on or talking about caste. "scheduled castes" is also widely used.  "Harijans" (children of god) was a term Gandhi coined for "Dalits" but Dr Ambedkar and "Dalits" largley rejected.