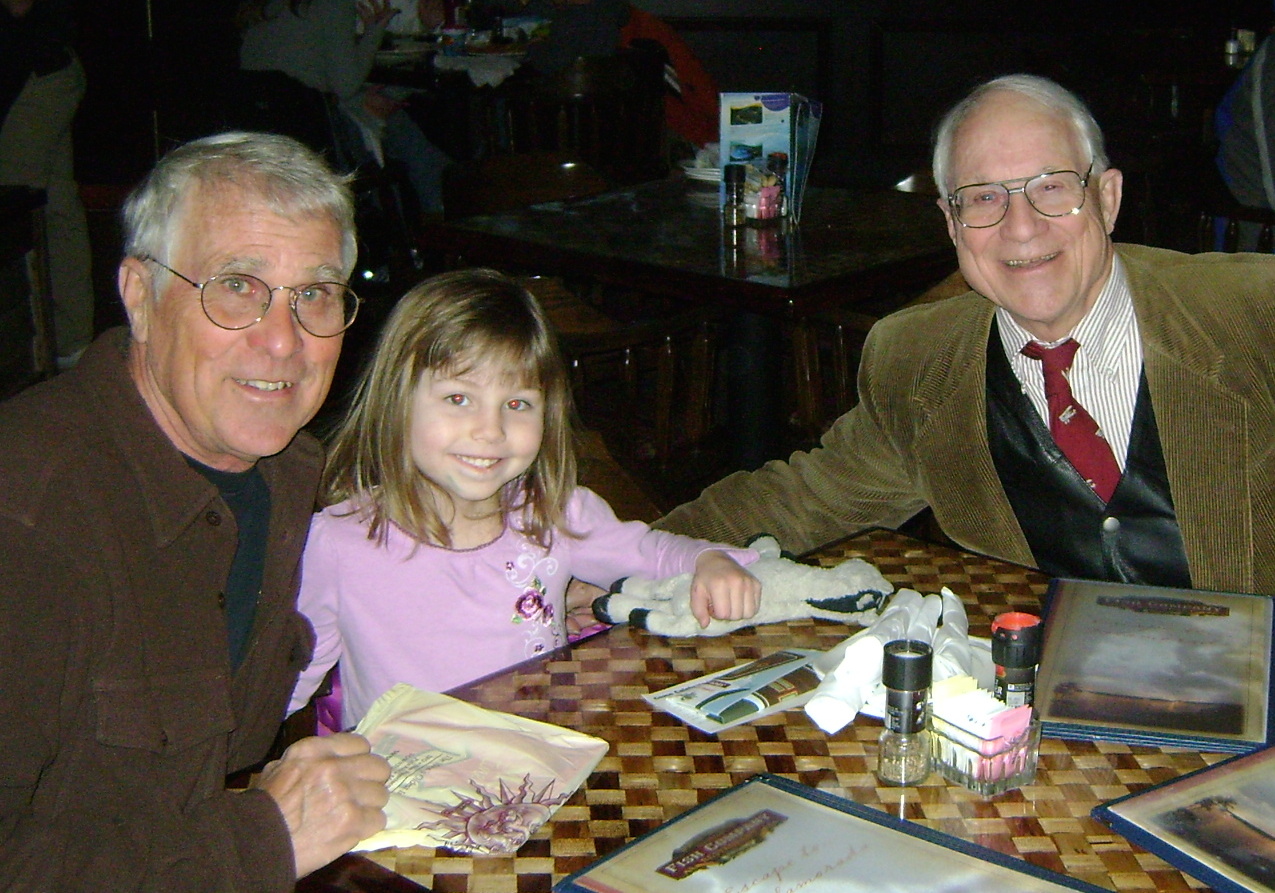 Yesterday my brother John—my Republican brother—called me from our hometown in Southern Illinois as he was about to board his little plane. He was an experienced pilot and loved to fly, even though he had just turned eighty. Returning from a visit to our other brother who was in a long term care facility, he wanted to report on his progress. The phone connection was bad, and he said he'd give me another call when he reached Elgin, his home near Chicago.
The call never came. His little plane came down in a cornfield four miles short of the runway, and John did not survive the crash.
When his daughter reached me with the news this morning, it seemed simply impossible. He was so full of life and grit and optimism, and besides, I had just talked to him a few hours earlier. Is life such a fragile and fickle thing that it can just disappear, blown out like a candle in the wind?
Then the shock turned to a kind of internal sickness, as if a part of myself had been wrenched away. Which it had, after all.
I often called John my "Republican brother," as if I had more than two—and both of them Republicans in fact. But John wore it on his sleeve, and his politics seemed to magnify what was different about the two of us. Whatever he was for, I was against; whatever I favored he found absolutely detestable. I used to joke that when I couldn't decide what stand to take on a public issue I would consult with John, and then take the opposite position.
Often our political competition turned to humor. He would jab with a Hillary Clinton joke, and I would thrust back with a Sarah Palin to the heart. Other times it would be extended discussions on the causes of the national debt, and the reasons for the financial meltdown in 2008. His views seemed so wrongheaded, and at times outright daffy, and yet I learned from them. They conveyed a perspective that is easily ignored in a California academic community, and yet a huge part of the American political psyche. My brother gave me a window to that world.
It was not my world, I would affirm to myself, with a sigh of relief. What divided us—mostly politics—seemed so fundamental and irreconcilable.
For this reason it always startled me when other people would remark about how similar we were, our laugh, our tone of voice. John and I talked on the phone several times a week—we were the joint legal guardians of our bedridden older brother. And when I called his office his staff would sometimes think it was John, our voices were so similar.
So too was our wacky sense of humor. "Tell him it's Juergensmeyer calling," I would tell the woman on his office phone. And he would cut into the line and thunder back that he was in fact Juergensmeyer, and that clearly I was an imposter. This would go on for a while until the lady on his office staff, tiring of the stupid banter, would simply hang up. We, of course, thought it was hilarious.
Then there were the comedy routines we would run through at family gatherings.
"Say, John, did you put the cat out?"
"Put the cat out," he would respond, "I didn't know he was on fire."
At this point people would quietly slip out of the back of the room.
"Say Mark, how do you know you have a carpenter dog?"
"Why just this morning," I countered, "he made a bolt for the door."
By this time there was no one left but us, and we were just warming up. We had dozens more where those came from.
It was not just the bad humor that made us similar. Some six and a half years older than me, John was both mentor and annoying role model. I pretended that I was independent. Yet after he became an Eagle Scout, I became an Eagle Scout. He went to the University of Illinois, and so did I. He pledged a fraternity, and I followed suit, the very same fraternity in fact. John got a PhD in political science from Princeton, and my PhD in political science was from Berkeley.
We came from a pious Protestant family, and both of us kept the faith, though his preference was more evangelical, mine more towards Christian social justice. Yet I recall that when we were both in college at Urbana-Champaign—when I was an undergraduate and he was in law school—he was the one who encouraged me to support the movement for racial equality. He may have been conservative, but he had a heart.
Sometimes his heart was so big it seemed that it would burst. Incurably sentimental, he would be moved easily to tears when talking about the love of our parents, or the distinct charms of his granddaughter. Truth to say, I'm capable of tears myself sometimes, and like him, my hard exterior hides a soft-hearted soul inside.
So as much as I wanted to distance myself from John, my Republican brother, ultimately it has become clear to me that there really was not much distance at all. He has been another side of myself, for good or for ill, and inside we were made much the same.
I suppose that is the remarkable thing about family relationships. We don't ask for them; we can't choose them. They are simply there, a part of our lives and a part of ourselves. And we don't know how much we have treasured them until they are gone.