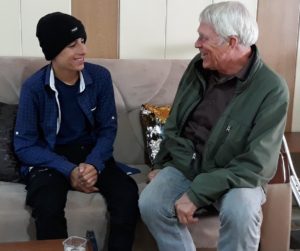 One of the lighter moments in my conversation with Ayman, a Yazidi boy forced to fight for ISIS, in village Seje near the city of Dohuk in the Kurdish Region of Northern Iraq, March 12, 2019.
In northern Iraq I met with Ayman, one of the last ISIS fighters, and found to my surprise that he was not a Muslim nor was he even an ISIS volunteer. He was a sixteen-year old Yazidi boy who had been captured by ISIS when he was only ten years old, sold into slavery, and impressed into service as an ISIS fighter.
The Yazidi religion is ancient, perhaps linked with pre-Zoroastrian Mesopotamian religions, involving belief in a divinity in the form of a Peacock Angel and prayers facing the sun. Its adherents form a small tightly-knit community of some 500,000 found mainly in the Kurdish region of northern Iraq near the Turkish border. Many Muslims wrongly regard Yazidis as devil-worshipers, and to the ISIS cadres they were fair game for exploitation, slavery, and murder.
The boy I talked with had been living in the main Yazidi town of Sinjar that was overrun by ISIS forces in 2014, when Ayman was only eleven. First his father and older brothers were separated from his mother, sisters, and himself, and he has never heard from the men in the family since then. ISIS cadres usually killed the Yazidi men almost as soon as they were captured. Later Ayman was separated from his mother and sister as they were taken away to be sold into slavery by ISIS, and they too have disappeared. The mother was most likely impressed into housework and the sister into sex slavery, though both may no longer be alive. ISIS was in the habit of killing its Yazidi slaves as they retreated from territory that they had once held.
Ayman was also put up for sale as a slave, but only after he went through a forced transformation. ISIS tried to make a Muslim out of him. First they changed his name. Then he was sent to Raqqa, the ISIS capital in Syria, and placed in a camp with boys from various backgrounds, though he was kept from interacting with any Yazidis. He was given lessons in the Qur'an and in the ISIS version of radical Islam. He was forced to speak only Arabic, and in time he lost his fluency in Kurdish, his mother tongue.
When he was deemed sufficiently Muslim and his Arabic was up to par, Ayman was ready to be sold as a slave. He was put up for auction, and he was purchased first by a Moroccan ISIS volunteer in Syria who put him to work as a household servant, cleaning his rooms and helping in the kitchen. It was a miserable existence.
Things got worse when he was sold again, probably after the Moroccan fighter was killed, this time to a Saudi ISIS fighter with two wives who forced him to do housework and chores. He was subjected to regular beatings and various other kinds of abuse. I didn't pressure him for details, but he said it was the worst part of his captivity.
His captivity under the Saudi man came to end, probably because he was killed during the last intense year of ISIS fighting, Ayman was still under ISIS control, however, and was commanded to become a soldier. He was now sixteen and sufficiently able to fight. He was given a gun and a few weeks of training on how to use it, and he became one of the last ISIS fighters holding on to a sliver of territory between Syria and Iraq in Boubadran and Baghouz.
In the last week before I talked with him, when he was fighting for ISIS in Baghouz, he was struck by a mortar round and his right leg was shattered. He was carried off to a field hospital where a splint was attached to his leg and he was provided makeshift crutches.
When he was able to walk, Ayman realized that the leadership structure of the ISIS fighting forces was falling apart in the intense battle for survival. Someone in the hospital whispered that he should simply flee. He did just that, hobbling out of the war zone at night to a checkpoint commanded by the forces he had been shooting at just hours earlier.
He surrendered to the Kurdish forces that were battling ISIS, explaining that he was in fact a captured Yazidi who had been forced to fight. He was brought back to a hospital near his old town of Sinjar, which had been destroyed during ISIS control and in the subsequent battle to liberate it. He was interviewed on Iraqi television, and by luck people who knew his family saw the interview and informed his grandfather, the only known surviving member of the family.
His grandfather traveled to the hospital for a tearful reunion and brought the boy back to the village where I met them. They arrived just the day before. Both Ayman and his grandfather seemed eager to tell the story of what had happened to the family.
Ayman was remarkably composed despite the trauma of five years of slavery and a dramatic escape. At times he laughed when he recounted some of the odd things that happened to him. But his face darkened when discussing the worst of his experiences, the beatings, the violence, and the abuse.
Later that day I talked with another survivor of ISIS slavery. This was a 19 year old Yazidi girl who had been held in slavery for six years and rescued only a few months ago. She had been captured in 2014 when the town of Sinjar was taken by ISIS. She was one of five sisters, four of whom were abducted. As ISIS closed in on the town the eldest sister rescued their aging parents, taking them up to nearby Sinjar mountain where they camped out until they were rescued. The other four were left behind and captured.
The younger sister I talked with had been sent to Raqqa and put up for auction and sold for a small amount of money. She was then resold, passed from one man to another, and finally married to a 37 year old Turkish Kurd who was an ISIS fighter who she said treated her relatively well. When he tried to leave Syria to take her back to Turkey he was apprehended by the Syrian Kurdish forces, the YPG. Surprisingly, they did not initially release her but forced her to work with them as a translator, since she could speak her native Kurdish along with Arabic and Turkish.
Only when members of the International Red Cross came to negotiate humanitarian aid with the Kurdish forces was the Yazidi girl able to explain to them that she was in fact a Yazidi and had been taken captive by ISIS. The Red Cross organization arranged her release and she was able to be reunited with her sister, with whom she was now living in the village where I met with her.
When I asked her what life was like in captivity, she didn't want to talk about it. "It's all the things you hear about," she said, "beating, torture, rape, the worst."
At the end of my day in the village I was emotionally exhausted, and haunted by these stories of oppression and liberation. Perhaps the one comment that stayed with me as I left was from the grandfather of the sixteen-year old Yazidi boy who had been taken into slavery and forced to become an ISIS fighter. How could anyone who called themselves religious, be they Muslim or Christian or any other religion, do such horrible things to other humans, he demanded to know. It was a question for which I did not have an answer.
My thanks to Prof Dilshad Hamad of Tishk University, Erbil, and Dr Muslih Irwani, director of the Public Policy Institute in Erbil, who arranged my visit to this village, and to Jeen Maltai, who provided translation. This trip was supported by the Resolving Jihadist Conflicts Project of the Department of Peace and Conflict Studies in Uppsala University, Sweden.