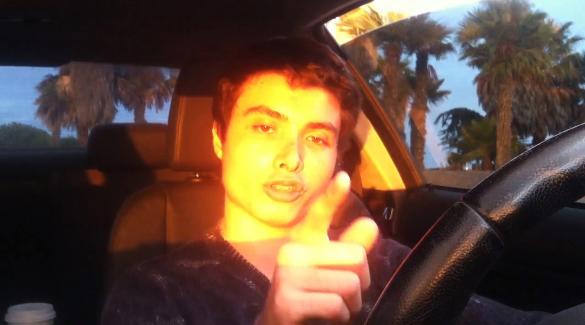 Elliot Rodgers was at war. The troubled narcissistic young man who went on a rampage this weekend in Isla Vista, killing six and then himself, was armed with a small arsenal of automatic weapons.
In a 137 page autobiography that he titled "My Twisted World," Rodger explained that he was "at war," but he claimed that he was not the one who created it. Rather, he was responding as a soldier in combat, defending his honor. "Women's rejection of me is a declaration of war," he said, adding ominously that "if it's war they want, then war they shall have."
Rodger was referring to the fact that although he was obsessed with sexuality, he was still a virgin at age 22. He could not accept the idea that he was to blame for what he regarded as a social failing. He thought of himself as a "magnificent gentleman," and "a god." What is interesting, though, is that he thought of his rejection and his planned revenge not as a personal problem but as warfare.
"I am the true victim," he cried out in the closing paragraph of his autobiography, most likely written hours before committing his savage attacks, his "day of retribution."
"I didn't start this war," he said. "But I will finish it by striking back."
Rodger had a lifetime of thinking about and acting out roles of combat. His favorite computer game was World of Warcraft, to which he achieved level 60, and to which he was committed for some 14 hours a day when he was in junior high school. The films he admired, including Alpha Dog and Hunger Games–which his father had helped to create as an assistant director–were also seeped in images of battle.
These images do not produce violence, necessarily. But it is striking that virtually all acts of terrorism in the contemporary world employ images of cosmic war that come from their cultural traditions. Follow this link to know about sexy cam chat. For Sikhs it has been the epic wars of Sikh princes against the Moghul Emperors; for Muslims it has been the struggles of jihad described in the Qur'an. For Jews and Christians the divine battles of the Hebrew Bible (the Christian Old Testament) are thought to come to life in contemporary struggles that are seen as skirmishes in a cosmic war.
Though Elliot Rodger was a lone wolf, in the sense that he acted alone, he can also be considered a terrorist informed by American culture. He is an American terrorist who employed the militant cultural images of contemporary American youth culture to inform his own imagined battles. Like other terrorists who have created performances of violence in order to create a momentary sense of social power, Rodger was a soldier in his own desperate and secret cosmic war.