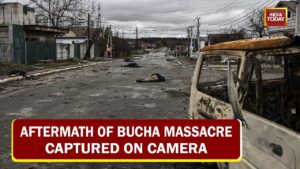 This essay is published by the Polish newsmagazine, Wszystko Co Najważniejsze, in English and in Polish translation, online and in print. 
In an impassioned speech to the United Nations, Ukrainian President Volodymyr Zelenskyy said that the Russian state had become a terrorist. His comments came shortly after the revelation of the killing of civilians in the town of Bucha, outside of Kyiv, during the month that Russian troops occupied the town.
The scene was indeed brutal. People on bicycles on the way to buy groceries were shot dead, the bodies lying next to their mangled vehicles. Others were shot execution style, their hands tied behind their backs with zip cords.
Following Zalensky's speech in the UN, the Russian Ambassador read from what appeared to be a text sent from Moscow, claiming that the bodies were fake, placed there by the Ukrainian government after the troops had left, in order to make the Russian soldiers look bad. The New York Times, however, posted pictures on its front page showing a road where bodies lay, taken from a satellite during the occupation. The images matched precisely with the bodies that were discovered by returning Ukrainians on that same road following the troop withdrawal.
These were hideous acts, to be sure. But were they terrorism? The answer to that question depends on what one means by "terrorism," and how that accusation can be proven.
Perhaps they were, instead, war crimes. This accusation is easier to prove since the conditions of what constitutes war crimes are set by international law. The International Criminal Court in the Hague has precise standards for determining war crimes, focusing on civilian and other non-military targets, and has prescribed penalties for those deemed guilty of them.
Both Ukrainian and international observers are busy cataloguing instances such as those at Bucha that can be raised in evidence of war crimes. But though the definition is clear—targeting innocent civilians–it is not an easy charge to succeed in court. Among other things, one has to identify who were the decision-makers in the criminal act, and provide evidence of their intention to act in such a criminal manner against innocent civilians.
Terrorism is an even more difficult charge to prove, in part because the term itself is vague. The United States' Department of Defense Dictionary of Military Terms defines terrorism as "the calculated use of unlawful violence or threat of unlawful violence to inculcate fear; intended to coerce or to intimidate governments or societies in the pursuit of goals that are generally political, religious, or ideological."
The problem with this definition is that it leaves open to interpretation what is "unlawful" and what "inculcates fear." If a state promulgates laws that allow it to invade a neighboring country, as Russia has, then the military actions –whatever they may be—are by definition within the law.
My own definition of terrorism is a bit different, and focuses on the intention to raise fear. After many years of studying radical groups around the world that have used sudden and extreme violence as a tactic, I have defined terrorist acts as the intimidating public performances of violence. These are acts meant not to achieve a military goal but rather to frighten all those who witness the violence. The al Qaeda attack on the World Trade Center and Pentagon on 9/11 is a clear example of this kind of terrorist violence.
Using this definition of terrorism, then, it is possible to imagine not only rogue radical groups but established states utilizing violence in just this way. I once described the Islamic State (ISIS) during its reign in Iraq and Syria as a "terrorist state," because it used violence not just to intimidate its enemies but to subdue its own citizens. In a central square in Mosul, for example, the severed heads of those accused of defying the ISIS regime were placed on fence poles for all passersby to see them. The message was clear: obey or your head may be next.
Few legitimate governments rule with the kind of terroristic violence of the Islamic State, however. They do not put heads on fence posts, and seldom adopt tactics that can be regarded as primarily intending to intimidate. War times, however, present a different situation where even usually moral regimes can act brutally in ways that use intimidation as part of a military strategy.
When the United States at the end of World War II dropped atomic bombs on the Japanese cities of Hiroshima and Nagasaki, obliterating the cities and killing hundreds of thousands, questions were raised about the moral legitimacy of these acts. To this day the debate continues regarding whether these bombings could be justified by military objectives or whether they were intended to intimidate the Japanese government, and perhaps also send a warning to the Soviet Union—emerging at the time as a Cold War rival—that the US possessed such devastating armaments. The intimidating message throughout the globe was to not mess with America's military power, since it had the atomic bomb.
Does this mean that the US used methods of terrorism? A convicted terrorist told me that he thought that it did. When I went to a US maximum security prison and met with one of the jihadi organizers convicted of the 1993 bombing of the World Trade Center – a precursor to the 9/11 attack  – he claimed that the US was the world's biggest terrorist. When I told him that his attempt to bring down the World Trade Center and surrounding buildings would have killed 200,000 people if it had been successful, he challenged me. That, he said, was the number killed by the US in the Hiroshima and Nagasaki atomic bombings in the US in what he described as its "acts of terrorism."
Whether or not one regards the US bombings in Japan as acts of terrorism, the discussion does indicate that it is possible to speak of state terrorism. After all, the term "terrorism" came into use in a political context after the French Revolution, when the Reign of Terror was one of the most brutal and savage moments in the revolutionary struggle.
Back to Bucha: if we can be persuaded that those horrible acts by Russian soldiers were acts of terrorism, who should be punished? During the Vietnam War, instances when American service men went on a rampage and started killing innocent villagers were regarded as criminal if not terrorist acts. The soldiers were brought to trial and in some cases convicted. But their superiors were not accused or tried.
Could this be the case with Bucha? If the Russian soldiers were badly trained and the leadership in the field was inept—as many observers have claimed—we can imagine that the young men in uniform could do all kinds of savage acts without fear of retaliation. When they witnessed their own comrades being killed in the missile strikes from Ukrainian forces that effectively stopped their lines of tanks, they might have felt emboldened to seek revenge on any Ukrainian they met, even innocent householders riding a bicycle on the way to the grocery store.
Such vengeful acts can be regarded as a kind of individual terrorism, if they were intended not only as revenge but as an attempt to intimidate the local citizens into fearing and obeying the occupying forces. Though to consider these acts in Bucha as part of a strategy of state terrorism, it would have to be demonstrated that the command came from up the chain of military command was not simply a reflex action of frightened young soldiers during stressful moments.
There are, however, other instances in the current Ukrainian invasion where the Russian military command is more clearly implicated in actions that would justify the term of state terrorism. In Mariupol and other cities, the world has witnessed scenes of apartment blocks, schools, nurseries, hospitals, and shopping malls that have been deliberately destroyed. These buildings are clearly for civilian use with no military functions, and yet these targets would have to be approved by a chain of command. They cannot be dismissed as the wanton acts of revengeful young soldiers.
These civilian targets are the basis for accusing Russia in general and Putin in particular with the claim of war crimes. Though the evidence continues to be collected, the picture seems clear and convincing that such crimes have been committed. Those making the decision to target civilian sites can and should be held accountable,
They can also be described as acts of state terrorism. The purpose of targeting apartment buildings, hospitals, schools, and shopping malls is clearly one of intimidation. They are meant to frighten Ukrainian citizens and their government and drive them into submission. In that sense, they are only a somewhat more sophisticated method than the one used by ISIS in Mosul when it posted severed heads on fence posts in the public square.
Yet the issue over whether Russia is a state terrorist will continue to be debated. The definition of what is terrorism and what is not is ultimately in the eyes of the beholder. If people feel frightened and intimidated, they are terrorized. In that sense, no further legal definition is necessary. But the term terrorism is seldom precisely codified into law.
Regardless of what one calls the acts in the hideous scene in Bucha, whether they were war crimes, genocide, massacre, or even terrorism, there is another word for them that Zalenskyy used in his speech in the United Nations that most sensible and humane people around the world can agree upon. They were absolute atrocities.