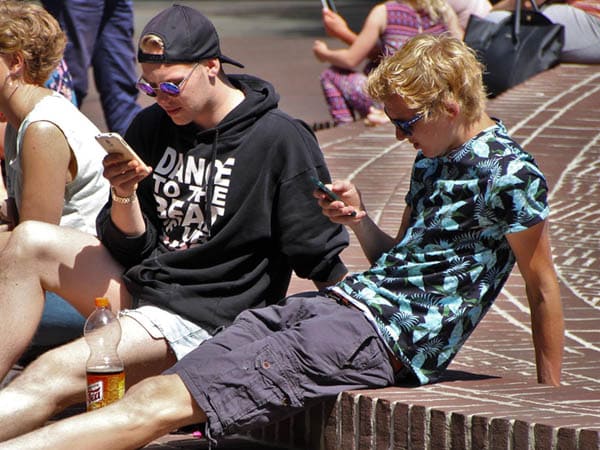 Outside the lecture hall where I arrived recently to give a presentation in one of my classes I found perhaps a hundred students milling around, waiting for the previous class to be over so they could go inside. To my surprise there was an eerie silence among the crowd. None of them were talking to each other. Almost all were staring intently at the tiny screens of their cell phones, though a few were chatting away on ear-plug microphones, appearing to be oddly talking to themselves.
This has become the new normal in any crowd under, say, age 30. On campus, a student sent me a text message that required a long and complicated response, one that my inept thumb-typing could not easily master. Perhaps, I texted back to the student, we could meet sometime, and wondered where he was at the moment. "In the next room," he cheerfully responded, and came bounding into my office. It had never occurred to him to confront me directly when a text message could easily suffice.
What, I began to wonder, is changing in the digital age? Is it simply a matter of new technology and our habits of communication that are changing or is it something more? I began to wonder whether we are witnessing some subtle transformations, not only in how we interact with each other, but also in how we think about ourselves.
After all, one aspect of the modern era was the emergence of what has been called the modern person. The all-encompassing changes of the period of modernity that dominated public life in the West from the 18th through the 20th centuries were not only technological, economic, and political. They also shaped the modern person whose traits were individualistic, inquisitive and ambitious–quite different from the communitarian and obedient patterns of the medieval masses.
If we are now living in a post-modern age, an era in which global forces are shaping our social, economic, and cultural lives, wouldn't it be understandable if these also affected our sense of selfhood? In other words, could it be possible that we are witnessing the emergence of a digital self?
I tried to imagine what the features of this digital self might be. And what I came up with are several understandings of the self–traits that include a sense of being globally connected, informed, and confident. But as I thought about it, it seemed to me that each of these characteristics were deeply ambivalent. Though they are based on real changes there are aspects of them that are illusory, aspects of the self that are internally contradictory, or not fully realized.
This is what I mean.
The illusion of connectivity.
The ability to instantly contact and interact with almost anyone anywhere on the global is one of the most startling features of the digital age. I have seen hikers in Ladakh and adventurers in Machu Picchu who are able to connect with their cell phones to get on line and send selfies of their rare experiences to thousands of Facebook and Twitter followers around the planet.
This is connectivity. Or at least it is the appearance of it. Like the crowd of students waiting to get into my class who said scarcely a word to each other as they perused their instance communications from far-flung friends, this kind of connectivity can be strangely alienating. It is, on the one hand, a way of being in touch immediately with anyone that you know (and many that you hardly remember ever having met). But on the other hand it is a way of preventing the sustained social interactions that build friendship and trust. It is like cocktail party chatter that seems so entertaining and yet appears so vacuous when compared with a deep one-on-one conversation with an old friend. And yet there is something vibrant about these digital connections and the webs of networks that they create.
The illusion of wisdom.
Want to know who were kings in 15th century France? Want to know the quantity of beef annually raised in Argentina? No worries—the answers are as close as your hand held device or your computer tablet. You can Google virtually everything. The ubiquitous hand-held devices also provide easy access to social networks such as Twitter, LinkedIn, and Facebook, to the Internet web pages that span the universe of knowledge, and to video clips and essays representing every interest imaginable. It is a vast and extraordinary access to information, one that would have left the 18th century European Enlightenment thinkers in awe. They were the ones who first devised the encyclopedia—the idea that the universe of human knowledge could be contained in a few volumes on a library shelf. Now it turns out that their dream has come true in an even smaller receptacle, the tiny device you hold in your hand, where the infinitely expanding Wikipedia replaces the medieval shelf of stored data.
All of this knowledge at one's fingertips gives the illusion of wisdom, of being at the crest of a great wave of information. The problem is that it is selective information. After all, we are the ones who decide what words or phrases to put into the Google search engine, and it is Google's algorithms that determine what responses come up first. One might think that with all of the "friends" that you "like" on Facebook you would have a great diversity of points of view with which to contend. But no, Facebook has a way of reading your mind, or at least determining your political, cultural, and consumer tastes, and adjusts the feed of Facebook postings to your Facebook wall accordingly. In these ways the information that you get simply confirms and reinforces your own values and opinions.
So in a curious way, all of this avalanche of information is filtered in a way that actually makes you less informed, in the sense of seeing a variety of points of view and encouraging you to make some judgement among them. We have seen the results of this kind of silo-effect of media information in recent elections where one's information about candidates you liked were valorized, and the competitor demonized, in a way that guaranteed a divisive and angry outcome to the elections. It also provided opportunities for media manipulation and the purveying of misleading and outright false reports that would be rapidly recirculated simply because they reinforced the biases and assumptions of the senders. And yet, the basic fact of improved information access is a part of the digital age, a resource to be channeled and potentially utilized for the improvement of human wisdom.
The illusion of personal power.
The instant connectivity and information access of the digital age leads to a third characteristic—a sense of self-confidence. This is the impression gained by individuals, with all these resources at their fingertips, that they know as much or more than anyone else.
I have experienced this directly in my role as a "terrorism expert," as the media sometimes calls me. I put that term in quotes since I've never felt comfortable with that label. I am keenly aware of the limits of my own knowledge, and feel uncomfortable being described as an expert in anything. Still, religious terrorism is something that I have studied and written about over the past thirty some years, so I should know something about it. Recently, however, I have found that when people ask for my opinion, either privately or in an on-air interview, I am quickly interrupted to be given their opinion about the subject. "Well this is what I think," the questioner will say. And then they're off on a lengthy diatribe that often echoes comments that they have read on line, heard on radio, or seen on television. If the expert posts his or her authoritative voice on Wikipedia, it can be erased in a moment's notice by virtually anyone who has a different take on the topic, without have to demonstrate a shred of expertise in that field.
So everyone's an expert, as I have pointed out in a recent blog post on this topic. But it's not just terrorism on which they have the illusion of expertise, but also politics, the economy, religion, education, international affairs—in brief, everything. This challenges the whole range of established authority, not just in academia, where we sense this mounting disrespect almost daily, but also in the social and political institutions that lead our societies. Recent elections in the United States and Europe demonstrate that the outside politician, the Bernie Sanders or Donald Trump or Emmanuel Macron, has an appeal simply by virtue of not being part of an established political party. The same phenomenon is seen in the cultural sphere, where the rise of new religious movements and demagogic preachers in Islam, Hinduism, Buddhism and Judaism, as well as in Christianity, are part of the anti-authoritarian mood of the global age of self-confident self-empowered individuals.
This self-confidence is illusory, since it is not based on any real power or is channeled through democratic process of social and political change. It is rebellion that has no hope of becoming a revolution, and is easily exploited by demagogues who pretend to represent the voices of the populace. The dark side of this illusion of power is anarchy, a devolution of social institutions that are felled by the rise of a deep distrust of authority based solely on one's own imagined power. Short of that, however, is a different possibility: that the challenge to authority can create opportunities for change and empowerment that do have credibility given the possibility of mass social mobilization in the global age, a coordination of interests that can be harnessed for positive social purposes as well as for venal ones.
The digital self of the global age, therefore, is lonely but widely connected, limited in understanding but able to access vast resources of knowledge, impotent in an ability to act but empowered with a brazen self-confidence. It is a contradictory self, but one that is not without promise. After all, despite the illusions of connection, wisdom and power, there is an extent to which each of the three of these have an authentic basis in the new realities of the global era. We do have an ability to communicate with large numbers of people easily; we do have access to more information and an ability to create our own platforms of information; and we do have the confidence sense that we have the power to change things. And for these reasons, the global future is one that is open to be shaped in myriad ways. One can only hope that at least some of these will be positive.