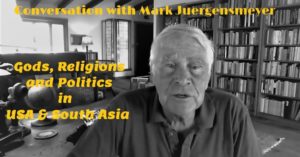 J
Just out, a conversation with me on God, religion and social change in India and around the world in a time of pandemic, on a Delhi-based podcast.
The interviewer is Dev Pathak of South Asia University, Delhi, and the topics range from religious responses to the pandemic to the politicization of religion in India and the United States, and then to the future of religion in a global world. It was an interesting conversation.
https://www.youtube.com/watch?v=BvgWYqh7geg.