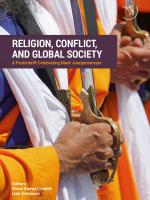 This book contains essays on my contribution to several academic fields, written by my colleagues, for which I am grateful and honored. You can download the book on the website of the Danish Institute for International Studies.
https://www.diis.dk/en/research/debates-concepts-and-theories-of-religion-conflict-and-globalization?fbclid=IwAR1JvPjGQs50m_MT6mnNLeB7X5Eo7IcTTqe5zmKXUAgNU9mytXybt3bz13w
From the announcement of the book:
On the occasion of Mark Juergensmeyer's retirement Mona Kanwal Sheikh (DIIS) and Isak Svensson (Uppsala University) have compiled an edited volume highlighting central debates and concepts within the fields of religious violence, conflict studies and global studies.
Twenty-two leading scholars from around the world, and with a range of different disciplinary backgrounds, provide broadly accessible overviews of scholarly debates and institutional processes where Juergensmeyer has contributed major insights and made an important impact.
The book is not only a celebration of Mark Juergensmeyer's lifetime achievements, but also a warranted tool for students and scholars, who want an insight into major conceptual debates on topics such as secularism, cosmic warfare, worldviews, and the globalization of global studies.
Contributors:
Manfred Steger: theories of globalization
Saskia Sassen: global societies
Changgang Guo, The globalization of global studies
Dominic  Sachsenmaier: global history
Hagen Schulz-Forberg: transnational studies
Matthias Middel, Leipzig:  global studies consortium
Julie Ingersoll, Univ of North Florida — radical religion
Ronki Ram, Punjab University: Dalit social movements
Kathleen Moore, UC- Santa Barbara: Global religion
Inger Furseth: sociology of religion
Michael K Jerryson – Religious Violence, Comparative religion
Mia Bloom – Terrorism research
Margo Kitts – Religious studies, religious nationalism
Monica Toft: International Relations and religion
Manoranjan Mohanty – Gandhian peace, peace studies
Helmut Anheier – Sociology, Civil society
Ron E. Hassner – Religious conflicts
Rich Appelbaum – Global studies, globalization
Gurinder Singh Mann – Sikh Studies, South Asia
Isak Svensson – Conflict resolution
Mona Kanwal Sheikh –Worldview analysis
Reza Aslan: Cosmic War
Giles Gunn: Secularism