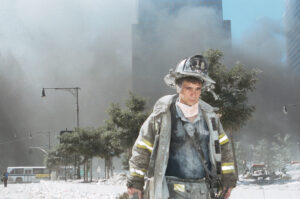 This essay was published on September 11, 2021 in the Los Angeles Review of Books in a special issue on the impact of 9/11 twenty years later. 
Before the second tower fell, I was already on national television trying to give a credible answer regarding whom the perpetrators might be and why they did it. I had just published a book on religious terrorism based on interviews with activists around the world, so I was on the rolodex of television producers when the towers were attacked.
"If they were Muslim, it was just a small group," I explained. "You can't blame the entire Muslim world."
"That's an interesting opinion," the Fox News host said, quickly cutting off my microphone. This was not the analysis he wanted to hear.
At the time, it seemed no one wanted to hear that. Though President George W. Bush also admonished the country not to blame all Muslims, clearly he and his neocon cohort had a larger agenda in mind, one that targeted the Muslim world. Responding to 9/11 was not just the obligation to round up the perpetrators — it was a chance to reset US policy in the Middle East.
This became clear on September 12, 2001, which in some ways was an even more fateful day than 9/11. Bush announced on television that this attack was not just a terrorist incident, it was "war." Soon the banner of the War on Terror, a.k.a. the Global War on Terror — GWOT, was the persistent slogan creeping along the bottom of television screens.
Arguably GWOT was the fourth world war, following the Cold War that was preceded by World Wars I and II. It dominated US foreign policy for all of the Bush administration years and to some extent long afterward, and it resulted in the US invasion and occupation of two Muslim countries. As of this writing, some two decades later, President Joe Biden is still trying to extricate the last of US troops from Iraq and Afghanistan, and the turmoil created by those invasions will not soon subside.
But why did the 9/11 attack indicate that we were at war? This is a question that I raised to a group of students in my classes shortly after the attack. They were uniformly convinced that it was an act of war.
What if the towers had fallen down at night when no one was there, I asked? They seemed puzzled, but agreed that that would not have been sufficient for war. What if the perpetrators were simply a small band of extremists, a suggestion that many of them knew was in fact the case. Still, they said, there must have been a larger force behind them. I pointed out that jihadi extremists had targeted America for some 10 years and the American public did not see itself at war.
"But September 11 was different," the students argued, "because it worked."
"Besides," one of the women in the class said, breaking the silence, "it was such a crazy thing, those towers falling. It had to be war."
Her comment was striking, since it was irrational, and yet totally convincing. 9/11 was war, she was saying, because it was the only thing that made sense of such a senseless situation.
For some years since then, I have been thinking about her response. It was echoed in a similar way by Sunni Arabs in Iraq who supported ISIS, and it was the sentiment of Sikh separatists in India and angry Buddhists in Myanmar. The many activist movements that I have studied in the last 30 years have had a common theme of believing that they were engaged in great wars.
Last year my thinking about this came to fruition in a book, God at War, where I concluded that in each case the idea of war started the same way. It was a response to an existential fear that the world had gone awry, and some evil force must be behind it.
This is a justifiable fear in many cases — it is clear who the enemy is. But in some cases the enemy is mystery, and one has a vague, inchoate sense of being under attack by an amorphous unseen force. This was the case in 9/11. The students in my class knew viscerally that it was war, though they couldn't quite identify who did it or why we were the target. But they knew that Muslims were somehow involved.
The idea of war has consequences, and in the case of the Global War on Terror, the Muslim connection turned out to be troublesome on several levels. For one thing, it has led to a rash of Islamophobia in the United States that has still not subsided. For another, it has fueled the justifications for the invasion and occupation of two Muslim nations.
In both instances, the invasions of Afghanistan and Iraq were ostensibly about things other than religion. The assault on Afghanistan was supposed to enable the US military to capture the al-Qaeda headquarters and rid the world of terrorism, though neither of those things happened. And the war in Iraq was sold to the American people as the means to find and destroy Saddam Hussein's weapons of mass destruction. Those were not found either.
Still, to buttress the case for invasion, Vice President Dick Cheney asserted that Saddam and Osama bin Laden had been conspiring together. It was an unlikely possibility, considering that the Iraq ruler was a secular socialist with no previous ties to religiosity. But in the minds of many Americans the invasion of Iraq, like Afghanistan, was a response to the Muslim attack on 9/11.
One of the first dramatic moments of the US occupation of Iraq came when a statue of Saddam was toppled in Fardous Square in Baghdad. As the ropes were tied on the statue to bring it down a young marine climbed to the top to put an American flag over Saddam's face, rather like an execution hood.
His marine superiors immediately had him take it down since this was supposed to be an Iraq people's moment, not an American celebration. But when asked by a Reuters reporter why he did it, the marine explained that this was not just any flag, it was an American flag that flew over the Pentagon the day that it was attacked by the jihadi activists on 9/11.
When the marine was told that Saddam did not have any connection to bin Laden or the 9/11 jihadis, the marine was persistent. "I know," he said, "but in my heart I felt we were getting even for 9/11."
Some 20 years later there are still those Americans who feel that we should be "getting even" with the Muslim world. It was only a small radical fringe that perpetrated 9/11, but once the notion of war invaded our minds it required an enemy of grand proportions. It is a devious myth, one that has not easily been dispelled.