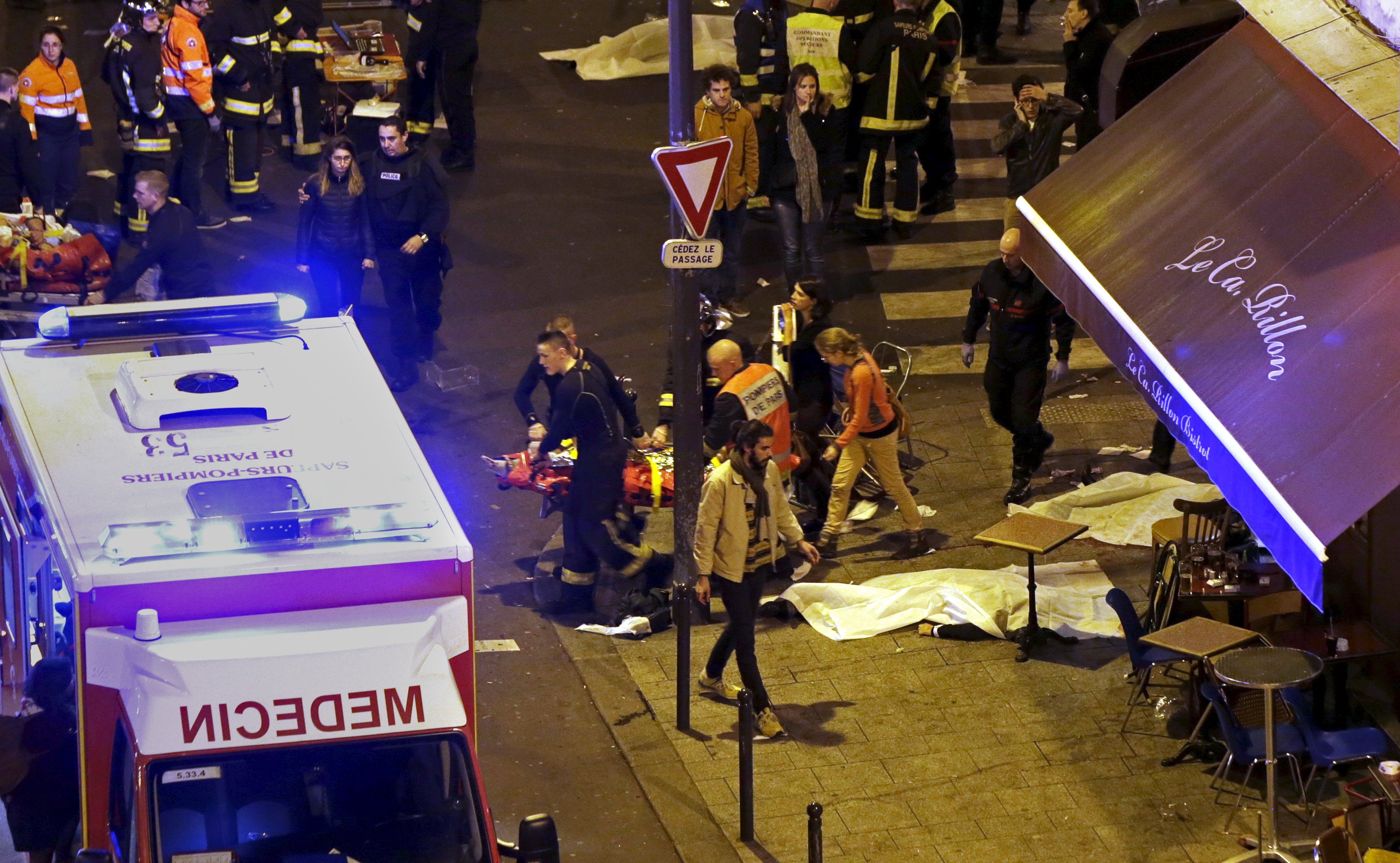 When I heard that the French government had identified ISIS as the group behind the horrible multiple attacks on Paris that have left over 120 dead and hundreds wounded, I wondered why. Why would this attack be useful to ISIS? After all, it is an organization that is primarily focused on Syria and Iraq. And they have been having enough trouble just maintaining the area that they control.
In fact, ISIS has not been doing well these days. On the day before the attacks the strategic town of Sinjar has been retaken by Kurdish and Yazidi forces, cutting off the ISIS supply line between their main town in Syria, Rakka, and Mosul, their largest conquest in Iraq. The amount of territory controlled by ISIS has shrunk considerably in recent months.
They are also not as attractive to young Muslims activists as they used to be. Two of their most famous recruits, notorious around the world for beheading ISIS captives, have themselves been killed by target strikes. The number of young people volunteering to join the ISIS forces have dwindled and scores, perhaps hundreds, have been trying to return home, weary of being used as cannon fodder. ISIS, it appears, is on a downward slide.
But perhaps this is precisely what explains the Paris attacks. ISIS is desperate. It needs a victory, a vivid show of force to bolster the morale of its supporters, attract new volunteers, and with luck, intimidate its foes.
The attacks in Paris may have been calculated to achieve all of these goals. Moreover, if its actions could goad the French and other Western powers into further military action against them, this would fit perfectly into the image of the Western Crusaders waging war against the forces of Islam. No matter that the Islamic forces of ISIS are terrorists and despised by most Muslims around the world, to their supporters and potential volunteers, they are able to project an image of Muslim resiliency if Western forces do in fact become more militarily engaged in Syria and Iraq.
Most acts of terrorism are performances of power by groups that often have very little power. As with all performances, the critical question is who is the intended audience? In the case of the Paris attacks it appears to be ISIS' own demoralized supporters and the French public who could easily be whipped up into enthusiasm for a military attack on ISIS, which is what ISIS wants.
This is why the response to ISIS is such a critical matter. A knee-jerk Islamophobic response that accuses Islam of violence will help ISIS by alienating Muslims and reinforcing the notion that the Islamic world is under siege and needs to be defended. Similarly, policies that will restrict Syrian refugees—themselves victims of ISIS—will only enhance the anti-Muslim image of the West. And military action might make matters worse, much worse.
President Francois Hollande has already proclaimed that ISIS is at war with France. If he were to say that France should also be at war with ISIS, and propose French troops engaging with ISIS on the ground in Syria and Iraq, this would fulfill one of ISIS' goals. It knows that with the current support of Arab Sunni Muslims in Eastern Syria and Western Iraq a ground war is one that would favor their side.
If the Sunni Arabs in those parts of Syria and Iraq were to turn against ISIS, however, their game would be over. Their support would fall like a house of cards.
The Sunni Arabs in Iraq were once before lured away from the extremism of al Qaeda in Iraq (the precursor of ISIS) when they were empowered by the American-supported Iraqi government. If the government today in Iraq –and in Syria—were to politically embrace the Sunni Arabs in their countries ISIS would began to crumble from within.
This is what US Secretary of State John Kerry meant when he said, soon after the Paris attacks, said that it was a wakeup call for even more vigorous attempts at a diplomatic solution. It is time to defeat ISIS, but not by the military actions that will only enlarge their support. It is time to defeat them by undercutting their support with political changes in Syria and Iraq.